As professional manufacture, supply and export
Liquid Drainer
in Taiwan. With engineer staff more than 20. strong R&D capability, advanced production lines, perfect Q/A control system and strict raw material purchase control enable our products to meet trade standard and customer's quality level and delivery date. Our quality policy is quality first, offer high quality and high reliability products to our customers and do not make any trouble to our customers. Please
contact now
.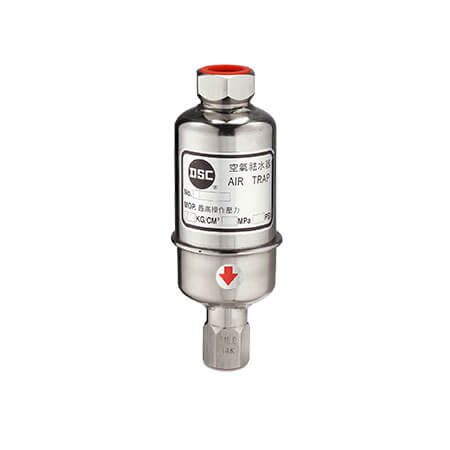 HUAI-AN HARDWARE CO., LTD.
To find and shop the best Liquid Drainer, you need to know about the highest quality of Auto Drain Trap manufacturer, supplier, wholesaler and distributor from a factory in Taiwan
none
none
999999999
http://schema.org/InStock
USD
2020-12-31
http://www.steamtraps.com.tw/air-and-drain-traps.html
HUAI-AN HARDWARE CO., LTD.
90
out of
100
based on
100
user ratings
DSC ALL STAINLESS STEEL FLOAT TYPE LIQUID DRAINER No. 11LD ●ALL S.S. BODY AND CAP, ALL S.S. INTERNALS. ●MOP 28K. ●DSC FLOAT TYPE AIR TRAP ARE DESIGNED TO DISCHARGE CONDENSATE OR LIQUID FROM TANK BOTTOM AND LOW POINT OF PIPE LINE. ●ONCE CONDENSATE MOVES INTO AIR TRAP WHICH LIFTS FLOAT, THEN SEAT AND VALVE OPEN TO DISCHARGE CONDENSATE FROM PRESSURIZED AIR SYSTEM. AFTER CONDENSATE DISCHARGED, THERE ARE WATER SEAL REMAINED BETWEEN FLOAT AND SEAT, VALVE. NO AIR SHALL BE LOST. ●ALL SEALED STAINLESS STEEL BODY IS BENEFIT OF HIGH STRENGTH AND CORROSION RESISTANCE. ●FRICTIONLESS MECHANISM DELIVERS LONG SERVICE YEARS. ●INLET WITH INTEGRAL STRAINER OFFER BETTER PROTECTION. ●LIGHT IN WEIGHT. DSC CATALOG No.11LD
Our advanced technology and hard-working staffs to ensure the competitiveness of our top quality
Liquid Drainer
, meanwhile, customer satisfaction is our constant pursuit.