HUAI-AN HARDWARE CO., LTD. is a professional Vacuum Breaker supplier. and we can reach about 1000 Million USD for exportation total amount. Over ten years experiences in the fields of materials, we are becoming the leader of the first line in the market. We laid our foot years back & ever since we are striving to deliver in our products innovation, competitive pricing & quality driven customer satisfaction.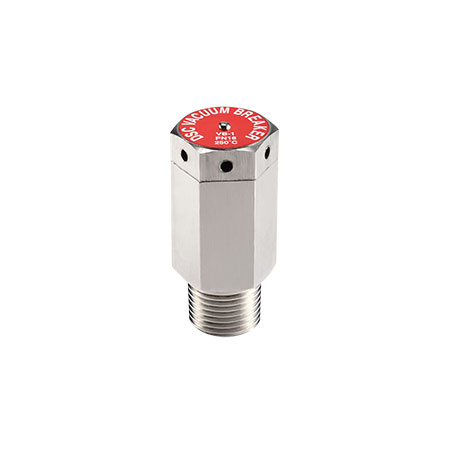 HUAI-AN HARDWARE CO., LTD.
Shop the best Vacuum Breaker, you need to know about the highest quality of Steam Boiler Vacuum Breaker manufacturer, supplier, wholesaler and distributor from a factory in Taiwan
none
none
999999999
http://schema.org/InStock
USD
2020-12-31
http://www.steamtraps.com.tw/steam-vacuum-breaker.html
HUAI-AN HARDWARE CO., LTD.
90
out of
100
based on
100
user ratings
DSC ALL STAINLESS VACUUM BREAKER No. VB-1 ●ALL S.S. BODY AND CAP, ALL S.S. INTERNALS. ●MOP 10K x 200 °C. ●THE DSC VB-1 VACUUM BREAKER IS THE POSITIVE MEANS OF PREVENTING DAMAGE TO TANKS, COOKERS, COILS, FIN TUBING AND ALL APPLICATIONS WHERE TEMPERATURE DROPS IN STEAM AND HOT WATER CONTAINERS, PIPES, ETC, CREATE VACUUM. ●TO RELIEVE VACUUM FORMED BY THROTTLING CONTROL VALVE IN STEAM MAINS, COILS, UNIT HEATERS, FIN TUBING, ETC AND AVOID POSSIBILITY. ●OF WATER HAMMER. TO RELIEVE VACUUM FORMED IN JACKET KETTLES WHEN STEAM IS SHUT OFF AND THIS PREVENT COLLAPSE OF JACKET. ●ANY STEAM OR WATER SYSTEM WHERE VACUUM MUST BE REDUCED OR ELIMINATED BY QUICK POSITIVE ACTION. ●OPENS AT APPROXIMATELY 2-1/2"H.G. DSC CATALOG No.VB-1
We specialize in fabricating a wide range of
Vacuum Breaker
. Ours products are finished to perfection by our expert team of designers and are subject to customization as per the demands of our clients.